Careers with Us
At Centennial Bank, we strive to give our customers and communities the best we have to offer. We pour our energy and our hearts into maintaining a culture that inspires each person to be their very best and we look for only the best people who share our passion for service.
To us, attitude really is everything. Our core values make us a bank that's like no other. We encourage employees to laugh at work, talk to each other and give back to the community.
Centennial Bank offers careers with varying levels of experience where you'll receive the guidance and opportunities necessary to grow. We invite you to apply today to become a part of our Centennial Bank Family!
View Openings
Employee Benefits
Our employee's physical and mental health are of the upmost importance to Centennial Bank. We offer a variety of health and wellness plans, financial tools and several employee assistance programs free of charge. Investing in our staff's well-being is an investment that benefits management, employees, and by the organization as a whole.
401(k) Matching
Employee Assistance Fund
Financial Wellness Coaching
Employee Assistance Program
Paid Time Off
Health and Wellness Benefits
Health Savings Account
Flexible Spending Account
Testimonials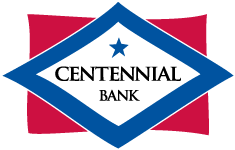 Allison Linzy
Data Engineer II
Allison started at the bank nearly 10 years ago straight out of high school as a temp loan document scanner. When asked what her most memorable moment at Centennial Bank was, she said, "It was when I became the first and youngest female engineer on the team. I believe I was also the first App Admin to be promoted to an engineer. But none of that would have been possible if it weren't for all the mentors I've had here at the bank."
Ashley Newman
Mortgage Loan Originator, NMLS# 1268524
As a member of the Centennial Bank family for over 10 years, Centennial has provided resources and the ability to give back to the community. "Volun­teering in the community doesn't only impact those around you, it truly enriches your own life as well." Working with the Bank and other organizations has shown her the importance in making the time, not simply trying to find the time to share ourselves and our talents with those around us.
Explore Career Paths at Centennial Bank